Sustainability 360 is a startup founded to help corporates track and report on their sustainability goals. The product enables corporate stakeholders to clearly understand the efforts and progress that an organisation is making towards their sustainability objectives.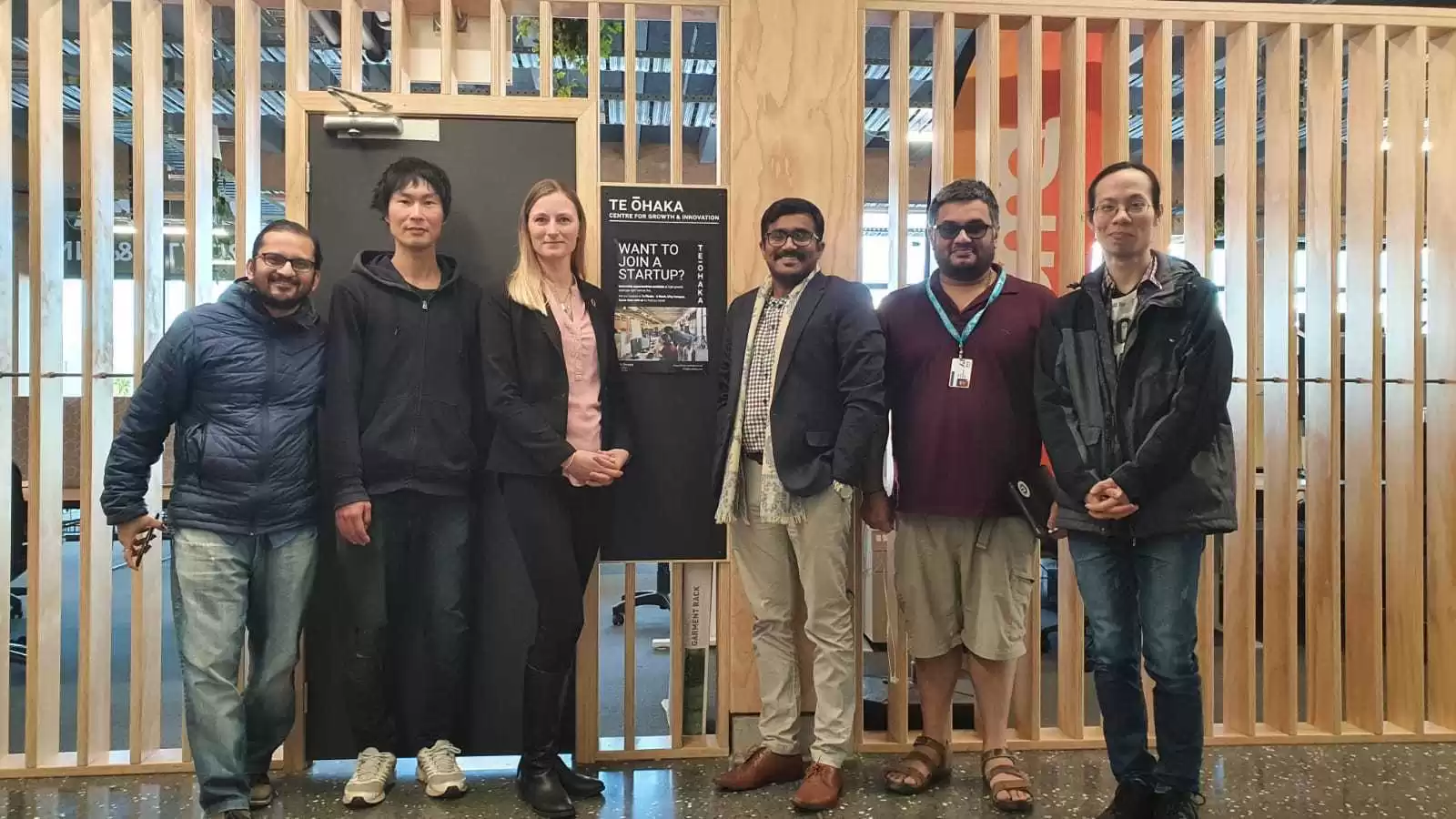 [Show and Tell at Te Ōhaka – from the left: Amit Sarkar, Yutaka Kawakami, Caroline Thalund, Jacob Varghese, Vinay Varma, Jack Tran]
The idea for Sustainability 360 arose during a time when founder Caroline Thalund was working with Christchurch International Airport to increase sustainability performance. In order to do so, the whole organisation needs to buy into the mission so that it becomes embedded within the organisation's culture. A strong strategy needs a strong culture to support it for optimal performance.
While this may sound simple, achieving this at the Airport was far from straightforward. Like most other businesses, information about sustainability was not visible to or easily accessible by all staff. On top of that, tracking and reporting on sustainability goals was a challenge for senior executives as it was cumbersome and resource-intensive. 
Working alongside and receiving enthusiastic support from Christchurch Airport, Caroline set out to build a digital solution to this problem. Named 'S360', she envisioned a digital platform that helps businesses grow sustainably by providing easy tracking and reporting of sustainability goals based on UN Sustainable Development Goals. The platform also aims to be an educational and engagement tool for staff members.
Caroline says "I saw that opportunity is steadily growing in this area, as the desire and pressure are increasing for all organisations in New Zealand – and throughout the world – to work towards sustainability targets, which will become more strongly enforced over time."
Ministry of Awesome's Startup Incubation Manager, Jacob Varghese has been working with Caroline at the Ara-based Te Ōhaka – Centre for Growth & Innovation since late 2019.  Since then, her venture has gone through the startup growth process; beginning with refining the venture's value proposition, then moving on to develop a business model, and then covering how best to pitch the application to potential customers. 
"Everyone at Te Ōhaka has been fantastic, providing me with valuable advice and support", says Caroline.
Being able to tap into the Ara Institute of Canterbury talent pipeline has been a critical component of the venture's success. Ara Enterprise and Digital Innovation students Jack Tran and Yutaka Kawakami worked to create the first version of the S360 platform as their Capstone project for their degree. 
 The experience of working at a startup and on a real-world build was an invaluable practical and academic experience for the students, during which they gained credits for their course and hands-on, real-world experience.
"Working with S360 was beyond exciting and rewarding. We learned new things every day – not just technical information but also insights into how to work as a team and the best way to execute projects in a real working environment. The S360 team was very welcoming; as startups often are. Plus, having the opportunity to learn from Vinay Varma (founder of SchoolBellchat) was a privilege," says student Jack Tran.
Amit Sarkar, Senior Lecturer from Ara's EDI-Computing Department adds  "The beauty of working with a startup is that the product concept is always novel. What made this engagement work was the excellent collaboration between the students, academic mentors, the technical mentor and the startup. Both students proved that they can stay focussed and resilient amid uncertain times."
Marian Johnson, Chief Awesome Officer at Ministry of Awesome was equally enthusiastic, saying, "This is a perfect outcome and exactly what Ara and MoA were aiming for when they co-created Te Ōhaka – Centre for Growth and Innovation."
Te Ōhaka is rapidly becoming an emerging force of collaboration bringing together high growth startups with Ara's talent pipeline and producing excellent results in terms of startup growth and excellent employment experience for students.  
The S360 platform is now available to demo for medium to large enterprises. For more information visit Sustainability 360 and get in touch with Caroline Thalund.