Sarah Wixon, Zoe Rookes and Maggie Peacock were three high school students who were taking an NCEA Business Studies together in high school. And In 2018, Bayuble was born out of the Young Enterprise Scheme. In that year alone, Bayuble has gone to win the Fourneau Trophy for Regional Winners 2018, Farmers Market Award Winners 2018, and National Finalists and Personally awarded Runner-Up for Entrepreneur of the year 2018.
Since then, these 3 co-founders have headed off to university while holding onto Bayuble. They are now more dedicated than ever to see their idea take flight.
Bayuble produces packaging. From existing fruit waste, these young founders have created an environmentally friendly alternative to the 2.4 billion stickers applied to Hawkes Bay apples each year alone.
In the future, Bayuble aims to move to various other labels and plastic packaging forms. Wixon, Rookes and Peacock wants to take an active role in mitigating the negative impacts of the current plastic packaging and label use. Their dream is to have Bayuble used and recognized globally for its effectiveness in decreasing waste, while still being a functional and viable alternative corresponding to existing packaging and labelling technologies used today.
Introducing Sarah Wixon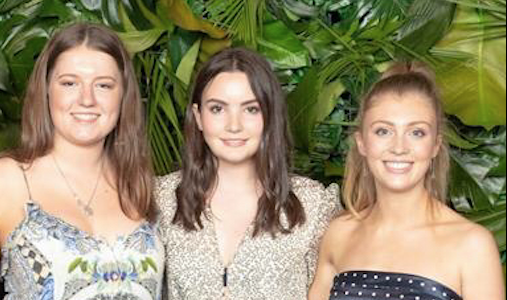 Co-founders of Bayuble: Maggie Peacock (left), Sarah Wixon (middle) and Zoe Rookes (right).
Why did you decide to embark on your startup journey?
Each of us are incredibly passionate about our idea, and mostly, about what our business stands for. We want to be an advocate for change, and believe that our idea, coupled with our aspirational intent is something worth fighting, working, and striving for.
What is the most enjoyable part of your startup journey so far? Why?
Personally, I've enjoyed seeing how Bayuble has grown and adapted as we have as individuals. We begun Bayuble as 17 year old high-school students, and now as 20 year old university students, it has been rewarding to see how much we have learnt in these past few years. Whether this be from content we have physically learnt in our studies that we can apply to the business, or personal growth where our maturity has enabled us to share our personal values and allow Bayuble to be an extension of who we all are as individuals.
What is the most challenging part of your startup journey so far? Why?
In 2019, we all went off to university, where Maggie and Zoe attend the University of Canterbury and I attend Victoria University of Wellington. The distance between us was the biggest challenge, having gone from spending almost everyday together in person, at school. This challenge meant we had to adapt quickly and re-design the way in which Bayuble functioned as a business. Messenger, Zoom, and Google Docs quickly became our best friend, and it continues to be the main way we operate and communicate as a business.
What are your biggest lessons you have learned in your startup journey so far?
One major lesson has been discovering the beauty of delegation and in turn, accountability. Through a growth stage we now effectively delegate tasks out, which has significantly improved efficiency and the quality of our outputs. Also, assigning individuals to be specifically responsible for the success and completion of tasks has put on the necessary pressures that drive us to move forward towards our growth goals as a business.
What would you have done differently if you are given the chance to start over your startup journey?
I think we would have created a more organised and specific timetable and schedule regarding our work and pathways, as well as prioritising business models, strategies, and timelines at an earlier stage.