It's not every day that the Mayor visits campus, so it was a privilege to host Mayor Lianne Dalziel on Friday 14 May as she was given a tour of Te Ōhaka – the Centre for Growth and Innovation at Ara.
This was an opportunity to showcase how Te Ōhaka – a partnership between Ara, The Ministry of Awesome and most recently, ChristchurchNZ – adds value to the local ecosystem, and how it aligns with the aims of the Christchurch City Council to develop innovation in the city.As a base for Christchurch's start-up community, Te Ōhaka is supporting the regional 'supernode' economic development model backed by the Christchurch City Council and Christchurch's economic development agency ChristchurchNZ. The Canterbury supernodes are grouped into four strategic strength sectors: global health tech, aerospace and future transport, food fibre and agritech, and hi-tech solutions.The visit featured speakers from start-up companies Moover and Datch, which are two of the many companies working within the support systems of Te Ōhaka to contribute to these areas of growth.

Of the 28 start-ups in Te Ōhaka, the Mayor had the chance to chat to Myovolt, who have some of the world's most experienced innovators in the field of wearable electronics. The Mayor said the tour was "enriching," and she didn't leave empty handed, purchasing a product of Myovolt's muscle recovery technology.

"I had to try it out and yes, I had to buy one! Good luck to Dr Dianne Jones and Steve Leftly as they take on the world!," she said.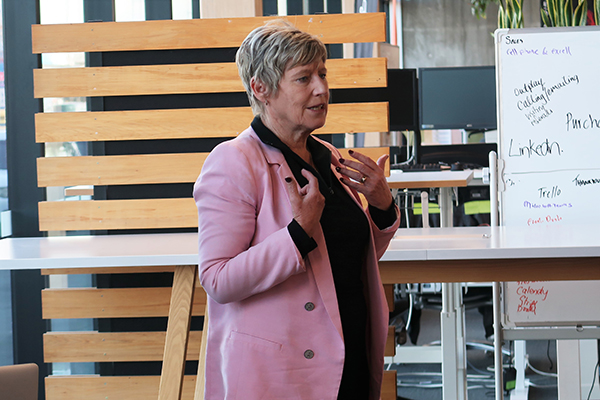 The Mayor Lianne Dalziel
The Mayor spoke to the small audience about how earlier in her career as a Member of Parliament, she was responsible for the Commerce and Small Business Portfolios and this led to her starting to tune into what motivated people to come up with new ideas and learning about the environments that encourage entrepreneurs.
Tracey McGill, Innovation Manager at Ara said, "The learning environment for Ara learners working with start-ups in Te Ōhaka is a recipe for success."
"We've got learners across 17 Bachelor's degrees undergoing projects with academic supervision who we match to the start-ups. This match provides the specific talent the start-ups need to push their company forward, while also providing Ara learners with an advantage when seeking employment."
Tracey McGill presents to the room
McGill also talked about how the start-ups connections into Ōtautahi's innovation ecosystem, paired with their commercial capability, immerses learners into an environment where rapid growth and rapid learning occur simultaneously.
Marian Johnson, Chief Awesome Officer for Ministry of Awesome, the start-up mentor and programme deliverer within the Te Ōhaka partnership, said, "Ara is a critical partner for us at Te Ōhaka because they provide 14,000 students who stream into the talent pipeline, which aids the start-ups in their growth, and the students in their own development."
Te Ōhaka is part of the wider Christchurch Economic Recovery Plan to grow jobs and talent in the region and reposition Christchurch as a smart, sustainable city. To date Te Ōhaka has contributed 96 new jobs to the city, and through the partnership with Ara will continue to match students and graduates to jobs which best suit their skillsets.